17 Feb
Nate sent me a link to this XKCD comic and it really sums up what Valentine's Day is like at our house year after year.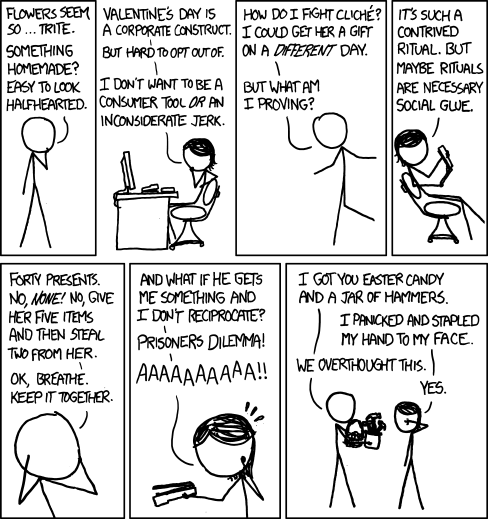 Some years we flat out forget about Valentine's day.  One year we tried to go out to dinner and stopped by three packed restaurants before remembering what day it was.  We usually forget about our anniversary too.
This year we did considerably more than normal.  Nate was had the day off on the 13th, so we decided to stop by some of my favorite thrift stores.  Waiting for us, was this:
Vintage Pyrex? Check.
Hearts? Check.
Starbursts? Check.
Shiny gold? Check.
This baby is a dream come true!
It needed to be cleaned up but it came with the lid in tow and cost half as much as one that I had lusted after in the same store a few weeks before.  I'm secretly hoping that this is a start to an awesome vintage Pyrex collection. We'll see!
That night, Nate made awesome carrot sandwiches, the recipe for which came from my most recent Food & Wine magazine.  It was easy but so good and I think we will be eating it again (and probably posting about it) soon.
For dinner the day of the Valentine, I made steak with a bleu cheese compound butter, roasted root veggies (Brussels sprouts, parsnips, carrots, baby purple potatoes), and some awesome red quinoa.  I used homemade chicken stock for the cooking liquid and it made quite a difference.  We washed everything down with some red wine.
Oh, and this:
Oregon black cherry ice cream + dark chocolate syrup + Coca cola with real sugar.  Do yourself a favor and make one of these soon.